Actions at dozens of RBC branches across country, around world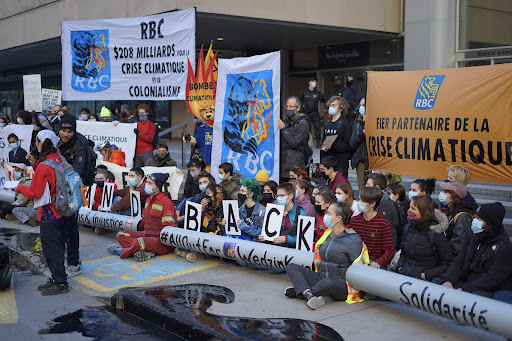 Just before the start of the UN climate conference, hundreds of people across Canada showed up to deliver a message to Canada's biggest fossil fuel funder, RBC: it must divest from fossil fuels and respect Indigenous rights! The actions were part of hundreds held across 35 countries around the world as part of the #DefundClimateChaos day of action.
It was amazing. There were actions across the country and flagship events in Montreal, Gidimt'en Checkpoint, Toronto, and Vancouver. Just see for yourself!
Together, we showed up with climate justice activists, environmental organizations, and Indigenous land defenders to call RBC out for being Canada's biggest bankroller of fossil fuels—and demand they walk the talk of real climate action.
Our allies in Toronto shut down the streets outside of RBC's corporate HQ and created a giant street mural calling out RBC for funding climate chaos.
In Vancouver, partners showed up with a giant inflatable blow-up of RBC President and CEO, Dave McKay— bestowing him with an award for "greatest greenwasher".
In Montréal, partners replaced two advertising billboards on a major highway calling out RBC. And then regrouped in the afternoon for a protest mobilizing two hundred people to RBC's doorstep.
And at local branches, Leadnow volunteers gathered to spread the news about RBC's climate investments with passers-by and RBC customers—and spoke to RBC branch staff and managers about feeding our concerns up to executive management!
In Collingwood, student volunteers used their lunch break to show up at their local RBC to call on the bank to stop funding fossil fuels.
In Orangeville, volunteers brought some creative flair to their event—by writing and performing a song about RBC's dangerous and dirty investments in climate-destroying fossil fuel projects to branch staff.
In Chicoutimi, activists used wheatpaste to plaster the windows of their local branch with messages denouncing the bank's actions.
We didn't only show up in person, we made sure to apply the heat on social media too: over 500 of us sent tweets to RBC calling for immediate climate action, and together with thousands of others, got #RBCIsKillingMe trending on Twitter!
Our efforts made the news: national and local media outlets across the country covered the event, and shone a spotlight on RBC's investments in the fossil fuel industry. And RBC has been forced to respond—so we know we were successful in putting them on notice.
We left behind some absolutely killer videos…
Let's not forget the role Canada's biggest bank @RBC is playing in continuing to finance oil and gas companies.

They aren't on a real #NetZero pathway. They aren't climate leaders.

And people are increasingly not falling for their greenwashing ways. #COP26 #GFANZ pic.twitter.com/jnJKD1QVQX

— Richard Brooks ☀️ (@R_BrooksStand) November 3, 2021
Finally, we joined part an international movement! In over 29 countries, activists took to the streets to demand that the financial sector #defundclimatechaos. Our combined actions reached millions of people through traditional and social media, making headline news in the UK.
We did all this thanks to you, and it's just the beginning. We'll be back with ever larger numbers and ever growing energy, calling out #RBCisKillingMe and stating the facts: it's time to #defundclimatechaos.