While no Canadian banks will get to NetZero, RBC is the worst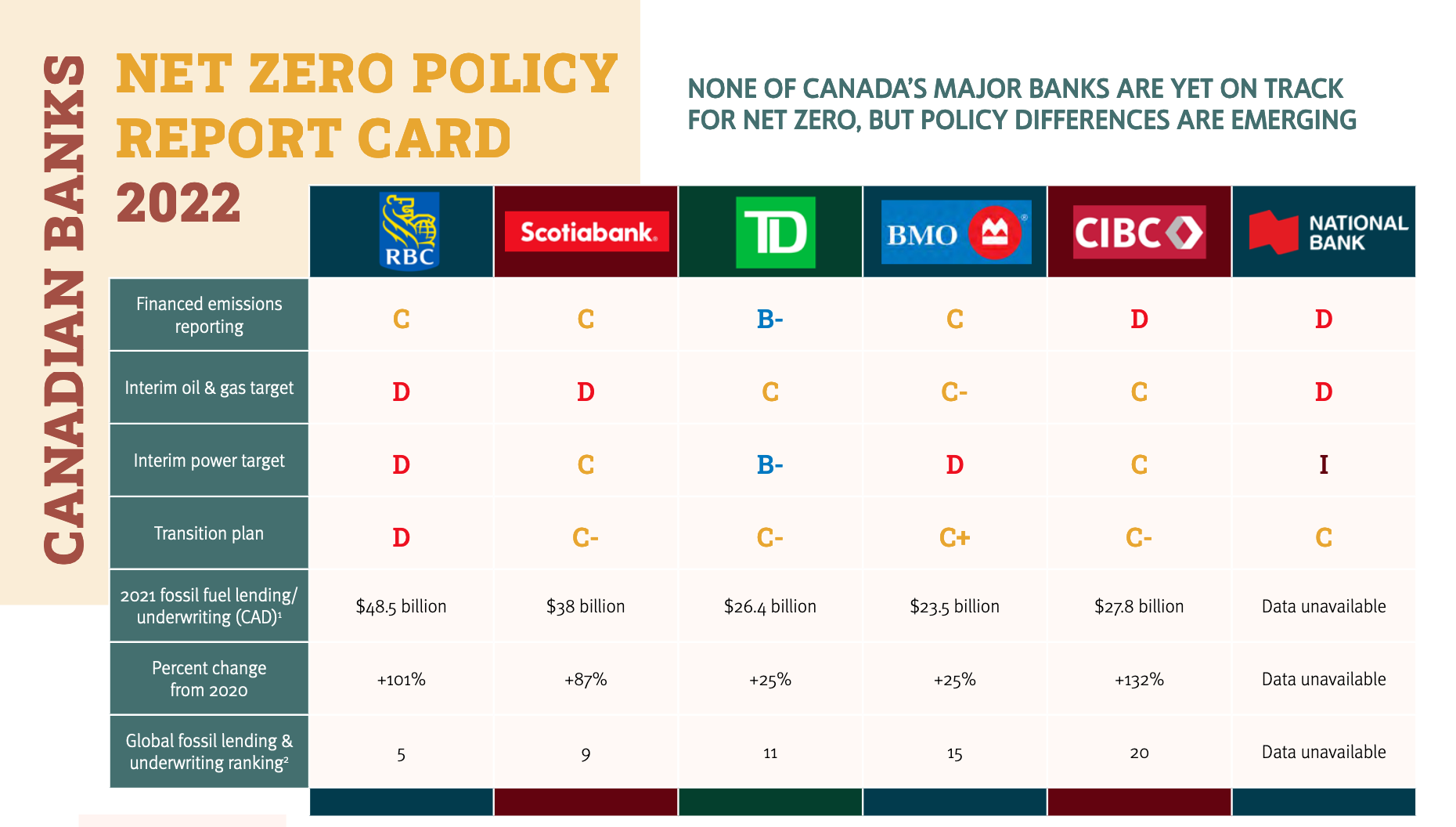 A new report out this week by climate concerned investor group slammed Canada's banks for their failure to have credible plans to get to net zero emissions. Their scorecard showed RBC as the worst performing of a bad bunch.
Read the full report at the Investors for Paris Compliance website.
One year since committing to Mark Carney's UN Net Zero Banking Alliance, investor group Investors for Paris Compliance graded the progress of Canada's six largest banks in developing their net zero policies. In particular, the report graded each bank's: 1) financed emissions reporting, 2) interim financed emissions reduction targets, and 3) supporting net-zero strategies. The report provides a grading scheme for each category, which highlights best practices.
An investment blog tracking the oil industry said:
An investor group has criticized Canadian lenders for investing heavily in fossil fuels despite the Paris Agreement, noting that all of the largest Canadian banks still need to be ready for net zero.

In a report titled Net Zero Policy Report Card, Investors for Paris Compliance graded Canada's largest banks on several indicators, including fossil fuel investments, climate targets, and emissions reporting.

In fossil fuel investments, all banks were revealed to have increased their exposure between 2020 and 2021, by between 25 percent—TD and BMO—and 132 percent for CIBC.

According to the report, RBC invested $48.5 billion in fossil fuels last year, up 101 percent on 2020, and Scotiabank increased its exposure to the sector by 87 percent to $38 billion.
The report received widespread media attention including CTV News.