RBC policy on coal "one of the worst of the global banks"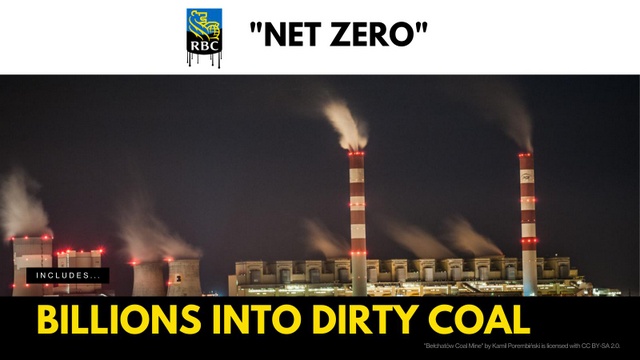 If RBC were taking its climate commitments seriously, you would at least think they would have a strong policy on coal – the world's dirtiest, deadliest, and dumbest fossil fuel.
But no, RBC seems to have no issues with finding loopholes that enable it to continue financing coal, an energy source that kills potentially a million people a year, that is the biggest cause of climate chaos, and that even RBC's own home country runs a global campaign to phase out.
A new report released by France based NGO Reclaim Finance, as covered in The Energy Mix, calls the RBC coal policy "one of the poorest among global banks", allowing RBC to continue to do business with the vast majority of coal mining companies.
The RBC coal policy (allows RBC to continue) doing business with 319 of the 526 coal mining companies and 400 of the 604 coal power companies on the Global Coal Exit List (GCEL) maintained by Urgewald, a non-profit environmental and human rights organization based in Sassenberg, Germany.
Reclaim Finance points to two big gaps in the RBC's current coal policy:
It only excludes new clients, allowing the bank to continue investing in at least 30 companies that are already in its portfolio. That makes RBC the author of "the biggest loophole that can be found in a bank sector policy," the release says.
The exclusion only applies to mining companies that derive at least 60% of their revenue, or utilities that produce at least 60% of their power, from coal. "These thresholds are a long way from best practice as seen at Desjardins in Canada," with restrictions of 0% for coal mining and 10% for coal power capacity.
Those provisions enable RBC to continue funding clients like coal mining giant Glencore, Reclaim Finance says. The bank also arranged US$5.4-billion in "sustainability-linked" financing for German utility RWE, which "razed a whole village in western Germany to the ground in January 2023 to expand one of its coal mines".
Read the full story in The Energy Mix.
Image courtesy of Below 2C